Dr Donna Pyke
Job Title: Practice Owner
Qualification: BVSc (Hons), MACVSc (small animal surgery), IVAS (acupuncture) – Co-owner of Burke Road Vet Clinic & Hospital
Donna is a Melbourne University graduate. Donna has completed extensive post graduate study in Small Animal Surgery in the UK and Australia, Emergency Medicine and Surgery and Radiology. She has her membership in small animal surgery. Donna is also an Academic Fellow of the University of Melbourne so you will see vet students coming through the clinic to learn. Donna is also qualified to perform acupuncture in animals.
Donna is kept busy outside of work with her husband Chris, two daughters Molly and Lucy,3 dogs Harley , Elfie and Ava, 3 cats, & her horses.
Donna consults on Monday afternoons  & Thursdays until 4 , and performs surgeries on Monday
Dr Tina Missen
Job Title: Practice Owner
Qualification: BVSc – Co-owner of Burke Road Vet Clinic & Hospital
Tina is also a Melbourne University graduate. She has a special interest in animal eye diseases (ophthalmology), dentistry and soft tissue surgery. Tina has a Labradoodle called Charlie Brown, and a cat called Maui Jim.
Tina consults on Tuesday evening and Wednesdays , and performs surgery on Tuesdays.
Dr Rebecca Falconer
Job Title: Veterinarian
Qualification: BVSc
Rebecca came to Burke Road Veterinary Clinic in July 2015 having graduated from Murdoch University in Perth in 2009. Since graduating, she has worked in small animal practices in Western Australia, Canada, the UK and a brief stint volunteering in the Caribbean! Rebecca has enjoyed the challenges of emergency work, however began to miss getting to know her clients and their pets on an ongoing basis. Now, Rebecca really enjoys working out the best treatment plan, and the following through that comes with being a primary care veterinarian.
Outside of work, Rebecca enjoys horse riding, skiing, scuba diving and travelling the world. Rebecca has fostered and re homed retired racing greyhounds and now that she has settled in Melbourne, adopted her Mindy (pictured above), her cheeky Domestic Short Hair! She also has a chihuahua called Margarita .
Rebecca Consults on Wednesday evenings, Friday mornings and shares Saturdays. She performs surgery on Wednesday. 
Dr Melania Bennetts
Job Title: Veterinarian
Qualification: PGDipAnimScMgt, DVM
Melania is a University of Melbourne graduate having completed a Bachelor in Science along with a postgraduate research year and her Doctorate of Veterinary Medicine. Melania enjoys all aspects of the veterinary field and has a strong passion for surgery. Over the years, Melania has had many great animal encounters including taking blood from a shark, to being bitten by a camel; Melania's journey has certainly been a memorable one!
When Melania is not a work she enjoys the outdoors, being active and spending time with her cheeky adopted cat Hugo who has learnt to play fetch! She also enjoys good food and takes great pleasure in cooking for family and friends. To add to her culinary experiments in the kitchen, she recently started testing her limited gardening skills to try and grow an edible garden (fingers crossed it survives).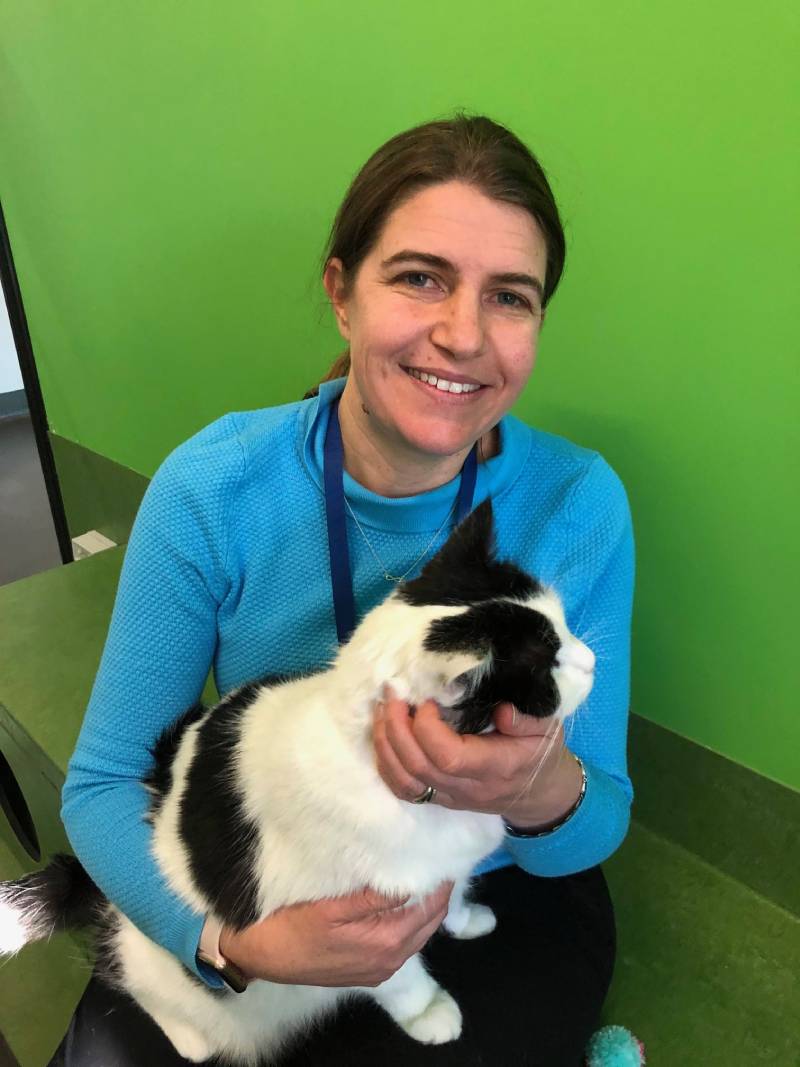 Dr Emma Bronts
Job Title: Veterinarian
Qualification: Qualification: BSc. ( veterinary biology) BVMS (hons)
Emma started a Burke Road Veterinary Clinic in July 2021. Having graduated long ago from Murdoch University in Perth , Emma has since worked in small animal practices all over Australia and the UK. Emma has spent the last 10 years of her career at RSPCA vic in various roles. She is looking forwarding to getting back into working in a small vet practise and developing relationships with our clients and their pets.
Outside of work, Emma and her husband Luke are kept busy with her 2 old cats , Teddy and George, 2 misbehaving dogs , Bingo and Olaf and 2 children Adele and Quinn. She and the family also enjoy fostering kittens preparing them for their forever home.
Karlena Proctor
Job Title: Head Veterinary Nurse
Karlena started her career with animals specialising in marsupial teeth through her Zoology degree at Monash Uni, however decided she wanted to help animals with a more hands-on approach. Consequently, Karlena switched career paths to veterinary nursing, and completed her Certificate IV through Box Hill Tafe.
Karlena has a special passion for animal behaviour, aspiring to compete in agility trials, herding and tracking with her young dog Scout (pictured here), a smooth coated collie. With her interest and training in behaviour, Karlena runs the Burke Road Vet Clinic Puppy Pre-School.
In her free time, Karlena can be found cruising around Melbourne in her '67 classic Volkswagen Beetle!
Carmen Corso
Job Title: Veterinary Nurse
Carmen has been working as a Veterinary Nurse since 2002, having completed her studies through Box Hill Tafe in Melbourne. She has specialised in emergency and critical care nursing, and has been a great addition to Burke Road Vet Clinic since late 2010.
Carmen has a a young Blue Healer named Bobby, and a Bengal cat called Jumunji. In her spare time Carmen enjoys spending time with her husband Ben and her beautiful children Isabella & Xavier.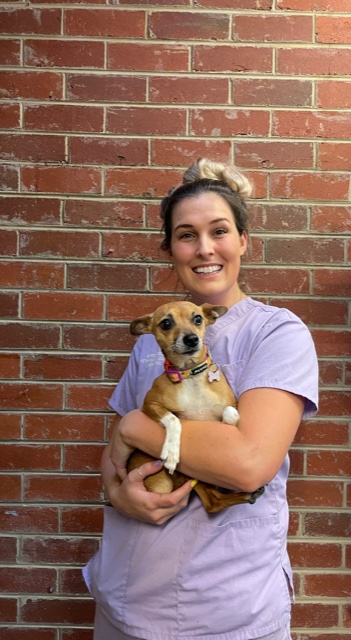 Jamie Bolton
Job Title: Veterinary Nurse
Jamie joined our Camberwell crew in April 2017 having just arrived in Melbourne from New Zealand. Jamie has been working as a Veterinary Nurse since 2013 after completing her Certificate of Veterinary Nursing at CPIT in Christchurch. She is loving exploring Melbourne and working at Burke Road Veterinary Clinic & Hospital.
Before becoming a Vet Nurse, Jamie was a personal trainer, and is very passionate about health & wellness, and enjoys exercising in the gym, outdoors and also playing hockey.
With her heart of gold, Jamie adopted a senior Jack Russell Terrier mix earlier in 2017, Digger, who has special needs. She has started nursing him back to health, and he now has a new lease on life!  
Kezia Alexandria
Job Title: Licenced Veterinary Technician
Coming to us from the US, Kezia is a very experienced, qualified nurse, or as they are called in the US, Licenced Veterinary Technician. Kezia has a special interest in dental hygiene, and had an adorable Chihuahua at home named Sachi.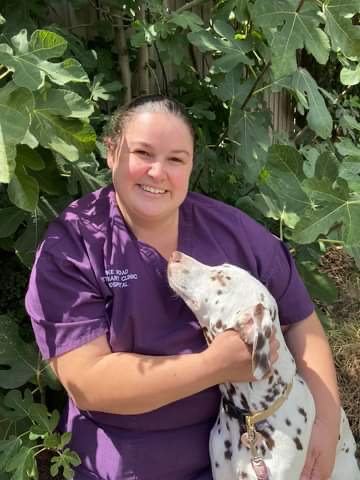 Amy Singh
Job Title: Veterinary Nurse
Amy has been a veterinary nurse since 2010. She completed her Bachelor of Science majoring in Zoology at the University of Melbourne and completed her honours year working on the reproductive cycle of the elephants at Melbourne Zoo. However, following this she worked in a laboratory before realising a hands on career with animals is what she really had a passion for. Amy is currently completing her Certificate IV in Veterinary Nursing through Box Hill Tafe.
Amy has an elderly Labrador, a Dalmatian puppy, and two cats, a Bengal and a Chinchilla cross. If they weren't enough to keep her busy she also helps her husband run his two businesses while raising their two young daughters, Annabelle and Felicity.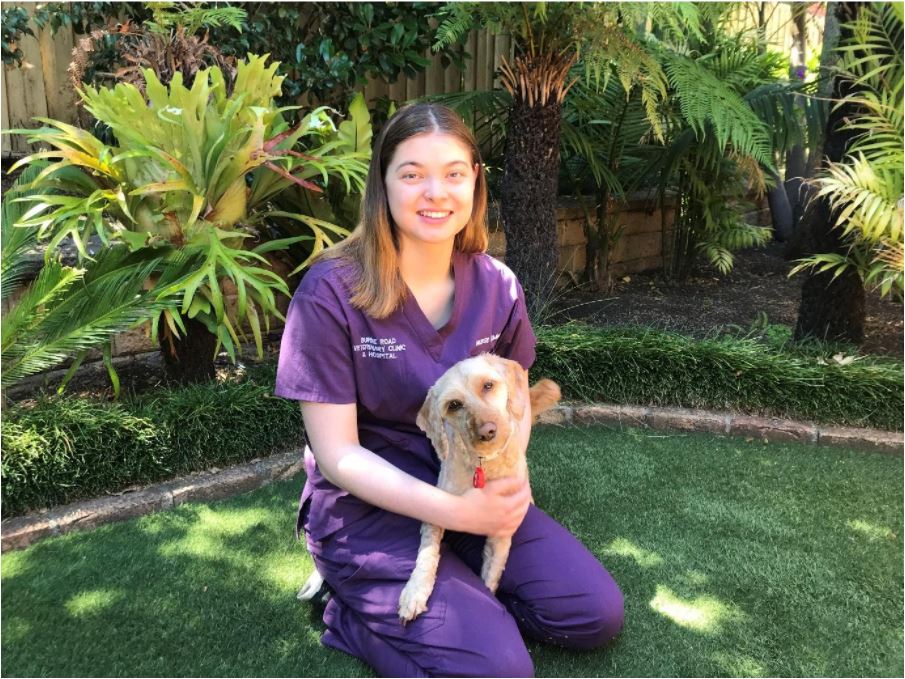 Jemma
Job Title: Veterinary Nurse
Jemma joined the Burke Road Veterinary Clinic in June 2020, in her second year of completing her Bachelor of Veterinary Nursing at Latrobe University in association with Melbourne Polytechnic. Having recently graduated in 2021, she hopes to continue to learn and improve her nursing skills and knowledge. She is passionate about native Australian animals and has been volunteering at the zoo since 2019.
Jemma has a mischievous Spoodle named Pebbles, and a Maclay Murray River Turtle named Sheldon.
Book an Appointment with Us
We look forward to welcoming you into our clinic. Please call us today, or book online to make an appointment.